Foxesden

|

Minji Moon: Love At First Sight
Minji Moon is a Korean graphic designer who creates stunning illustrations.
by Rachel Tan / February 23, 2017
Hello Minji! Thanks very much for taking time out for this interview. I understand you are a student at the Korea National University of Arts. Can you tell us more about yourself?
Hi, I am Minji Moon, a Graphic Designer specialized in Motion Graphics, illustration, Editorial Design, and UI/UX design. I developed my abilities in these 4 unusually mixed design areas through my ongoing education in Multimedia design at the Korea National University of Arts, and through various work experiences and freelance projects. I recently finished a 10 month internship at the New York design studio Big Human, and currently I am creating short looping animations, with the plan to exhibit them through various media.
What encouraged you to pursue art and design? 
As a young child, I was already drawing and painting a lot. I have always been doing it, and I think it came to me very naturally, almost like breathing. Seeing harmonious combinations of colors and beautifully simplified shapes really is a pleasure for me. Pursuing art and design was following my passion and source of joy and fun!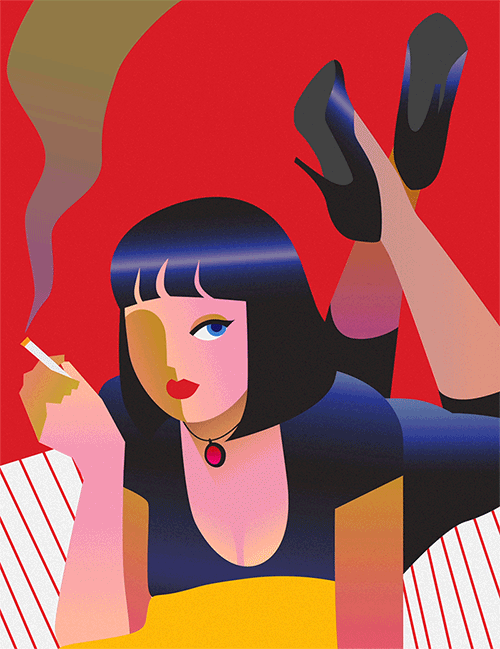 You are currently completing an internship at the design company Big Human, why did you make the move from Korea to New York City?
Coming to New York City was a unique opportunity to get a new and fresh design experience before graduating and committing to a job. It allowed me to meet a lot of talented designers, and familiarize myself with the design industry here. I also had more time to work on my own projects and develop my portfolio. I arrived in NYC in July 2015 thanks to a government program between Korea and the US. Here I have been working full time for 2 amazing companies.
How does the art scene differ in these two cities/countries?
Seoul and New York are both great city which concentrate an incredible number of brilliant and talented people. But I think New York has a unique edge. There is always something happening here, a new exhibition, conference, event, and new start up companies are created around unique innovative concepts. I had the pleasure to collaborate with Electric Objects, a start up which is changing the way people look at artworks, and is offering a very interesting platform for artists.
Your art is reminiscent of Picasso's later works, but with an incredible modern and contemporary spin. It also reveals a hint of surrealism. Who are your major influences?
I have a deep admiration for Picasso's work, especially the period he spent with Marie-Thérèse Walter. From "The Dream" to "The Yellow Belt" Picasso painted her with a unique dreamy and soft essence conveyed by curvy and balanced shapes, and bright colors. Canvases composed of very simplified shapes and vibrant colors have always particularly pleasured my eyes.
How would you describe your art style or direction?
In my recent series of animated portraits, my objective was to build an impression of presence, of depth for my characters in diverse themes. The fluidity, in the movement as well as in the shapes, is very important in my work, as I think it efficiently conveys an impression of quiet restful movement that I did not want overwhelming. The challenge is to mix the heterogeneity of the color frontiers with the coherence of the whole, which should only be amplified by movement.
I love your illustration 'Girls'. It explores many dimensions of female identity, and challenges common perception of what it means to be a woman. What are some of the other/main themes you explore through your artwork? 
I tried to have an experiment to treat Portrait as Abstract art in this "Girls" series. What I most focused on was having ultimate beauty with less objects, simplified shapes and good combination of colors using a girl figure. I really didn't put any stereotype of that skin tone should be like this, or hair should be this color. I considered each shapes as a part of abstract painting compositing the screen. I agnostically chose colors to achieve an overall balance.
If you had to introduce someone to your art, which one piece would it be? 
I just created a new short looping animation "Under the Water". My recent work was mostly based on solid vector image which had very clear border between shapes. Now, I am also trying to apply textures and gradations to achieve a different kind of soft impression. So I think "Under the Water" both contains the recurrent elements of my portraits series, and also opens a new windows over where my work is going next.
What are your future plans?
I am invited to ING Creatives Festival in Dubai in this April as a representative of Seoul. I am so excited about it because it is very first time for me to present my work in such official context. I will keep working on my personal projects continuously, with the goal to prepare for more exhibitions in the future. I will also continue developing and looking for more opportunities to work with other designers and companies on design projects.
One piece of advice for young people aspiring to be artists?
Find your own identity and keep working on it to improve!